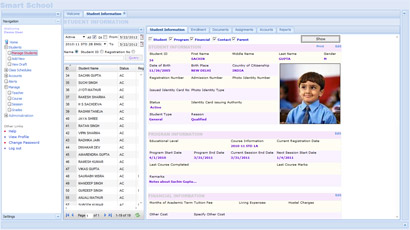 SMART SCHOOL : The Complete School Management System
This software suite is designed especially for any kind of Education Centers e.g. School, Colleges, Instututes, Coaching Centers etc. With SMART SCHOOL you are now able to automate your Student Management System and save a lot of time. This also helps you respond quickly to any demanding situation where you have a lot of information is required in less time. Here are the list of features.

Student Registration and Enrollment


Manage Prospective Students


Create Classes and Schedules


Manage everyday Class Attendance


Generate Class Progress Report


Generate Student and Teacher Schedules


Manage Fees and Student Accounts


Generate various Financial Reports


Alerts for Dues and Payments


Manage Student Marks and Grades


Generate Marksheet


Publish Exam Results on Internet


Parent can Login and view the Progress of their Students


Teachers can manage Assignments


Student and Parents can view the Assignments Status


Secure and User Permission Based Access to Resources


Internet Based


Manage Different Schools/Institutes from one Place


Complete Administration of Different Branches


and much more...



Click here to download brochure of Smart School

Click here to send your query

Click here for demo (on request)